Welcome to the third instalment of Patriotic Nerdery. So far, we've examined two of the eight Kiwi 'domestic superhumans' in the Marvel Universe. We've had "Big John" Anderson, the
Kiwi Kid
, who managed to be an even bigger dork than his hero Spiderman; and Ruatoria's own
Kiwi Black
, who did nothing but look mean for three whole X-Men comics. Basically, a sorry start. But this time we have a marked improvement - a character who not only has decent powers but actually wields them effectively. Behold Araoha Tepania, better known by her codename - Tuatara!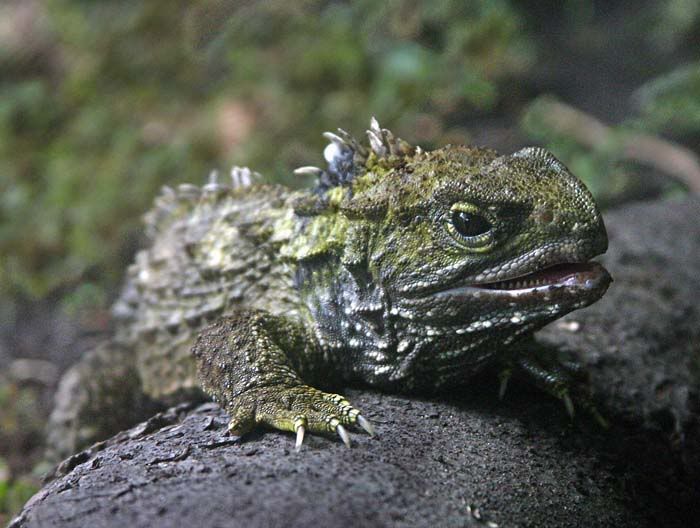 No wait, that's a real
tuatara
. I love those little critters, although judging from the comic we're looking at here, they seem pretty badly misunderstood outside NZ. Victoria University has a little enclosure near the hub of the campus, and during my time there I used to enjoy going and watching them do their whole tuatara thing. It was very meditative. Growing up in NZ you're taught that they're "the cousins of dinosaurs"; the truth is more complex, but they are ancient creatures. Pretty much everything related to them is extinct now. But their two real claims to fame are their ability to hear without ears, and their parietal, or 'third', eye situated between the two ridges on their head. Neither of these things are properly understood, even after a century and a half of research. Overall, tuataras rock. I can see their appeal to an American comic book writer looking for something weird, impressive, and distinctly Kiwi.
In this case that writer is a chap called
Kurt Busiek
, famous for writing a superb series called
Marvels
(a must-read for any fan of the MU). But, despite being a damn good writer, Busiek doesn't really bring his A-game to this particular comic. In many ways Tuatara is like Kiwi Black; a lazily Googled character, stuck together with standard comics cliches. This is, incidently, her only appearance ever. Admittedly, she does far more than the two boys we've covered previously, in half the time. A talented writer like Busiek, even when lazy, still produces much better work than his crappier peers. So for once, a Kiwi character got lucky.
It also needs to be noted there is a second superhuman by the name of Tuatara; this time in the DC Universe. Some years agone, DC created an incredibly lame pack of losers called the Global Guardians. Check out their nearly-racist super-dorkiness here:
It seems his third eye (hence Tuatara, gettit) gives him some nifty precognition. But obviously not the ability to ask "why do I even exist". Also, what's with the "timeless" water thing? Does that mean his powers don't work underwater, thus he would not be able to see a frigging shark sneaking up on him? Loser. If you thought that was bad, check out his costume:
Or how about this stirring portrait: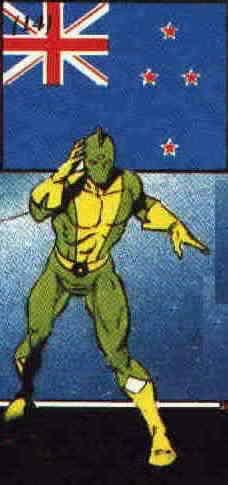 Seeing that proud son of the Southern Cross before the flag, I've not felt so inspired since I stood on Chunuk Bair. The funny thing is that he's named
Wakefield
. Clearly someone consulted an encyclopedia, with unintended ironic results.
Anyway, that prat is not the purpose of this blog. Here is our Tuatara...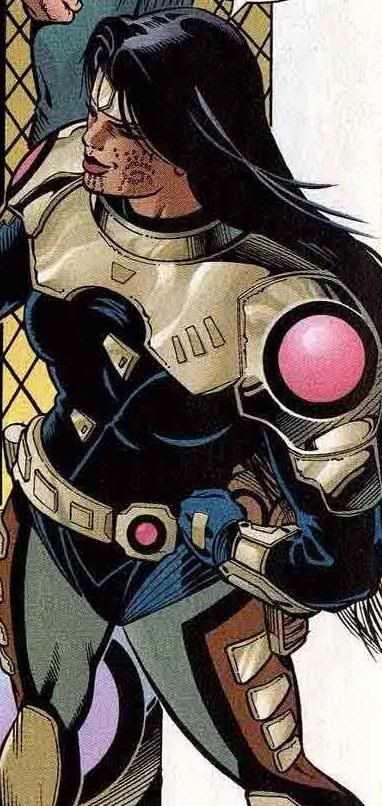 Okay, so there's a lot going on here. First off, her name is given as Araoha Tepania. The first name doesn't exist as a single word in Maori - it doesn't make sense. "Ara" roughly means "there" (as in 'over there'); it can also mean to awake, or arise. "Hoa", depending on the suffix, encompasses the idea of friend, enemy, spouse, partner, or even TV producer. There are no definitive translations in Maori, but even then this name does not compute. Most likely, it's a garbled version of Aroha. That's a common and quite traditional girl's name. I think Busiek just GOT IT WRONG. "Tepania" should be properly rendered as
Te Pania
, the mythological heroine of Napier (Ahuriri), and inspiration for one of NZ's most notorious statues. That name could have been pulled from a number of places, but at least someone did some kind of homework.
Tuatara's costume is pure late 90's cheese - all superfluous armour and pointless knobbery - but that's par for the course here. Her facial markings are intriguing. The pattern on her cheek bears some resemblance to indigeous Australian or African scarification - but definitely not a Maori women, whose only traditional facial markings were lip and chin tattoos. Tuatara's...bumps don't really look like ta moko. Again, not unlike Kiwi Black, a bit of cultural hijacking has got out of hand and gone all manga.
For the record, the Marvel Atlas gives her birthplace as Christchurch, for reasons I cannot possibly fathom, beyond "throwing a dart at a map". This would most likely make her of Ngai Tahu, or possibly Ngati Mamoe, ancestry.
So what's the story? Tuatara's big appearance is against none other then Robert Downey Jr! The issue is Invincible Iron Man, vol III, #6 (July 1998). In facing off against Iron Man, our Tuatara puts herself squarely on the A-list (if only for a few glorious pages). This issue has everyone's favourite alcoholic arms-dealing arsehole and his big shiny toys jetting off to sunny Australia. Someone's kidnapping rich and famous men, and it's suspected (duh) that Tony Stark is next on the list. (Of course, everyone - at this point, anyway - thinks Stark and Iron Man are two different people). His old flame/rival the Black Widow also shows up to watch his back. (Dude, did you hear they somehow suckered Scarlett Johansson into a potentialy 9-picture deal as Black Widow I? I kinda hoped they'd pick a real redhead, and Scarlett could play Ms Marvel instead. Despite the inevitable skin-tight costume, there have been some
hilarious
complaints about this call. For my part, I would have cast my beloved
Joanie
from "Mad Men").
Suddenly - after a busy night in Sydney, boozing and leching, someone slips Tony a Mickey Finn when he's not looking. Next thing you know, he's right Outback mate.
Hell of an entrance, huh? My name is Andre, but you may call me COMMANDER. Everything about her on this page screams bad manga-esque cheesiness - like she's a reject end boss from a terrible Nintendo game. But then she launches into the Big Villain Speech, and things get interesting.
It's the second panel that gets me here. Now, one of the finest Bond villains ever is a KGB-trained Nazi super-baby called Max Zorin, played by the incomparable Christopher Walken. The Bond film in question - "View To A Kill" - is generally considered one of the worst, but Walken''s performance is always praised, and personally I think the whole movie frigging rules, so there. (Duran Duran! Alison Doody! Grace Jones! And so on!). Anyway, Walken/Zorin gets an
awesome line
in the film when he busts Bond as a spy. Bantering with 007, he issues a hollow laugh and says "HA HA HA You amuse me, Mr Bond!". It is the high of perfection, and a solid gold example of how to be a good villain. I'm sure Busiek knows his references, and I'd hope Tuatara's line was a direct homage to that movie. Her subsequent crack about "being a secret agent", and the Bond-esque nature of her performance, certainly suggest so.
So blah blah he escapes, of course, and a Really Big Fight has to happen. Stark doesn't have his suit, but the Widow has shown up to help. Everything starts getting crazy, so Tuatara plays her ace card. (I can't combine the two pages, which are meant to be a "splash", but you'll get the idea).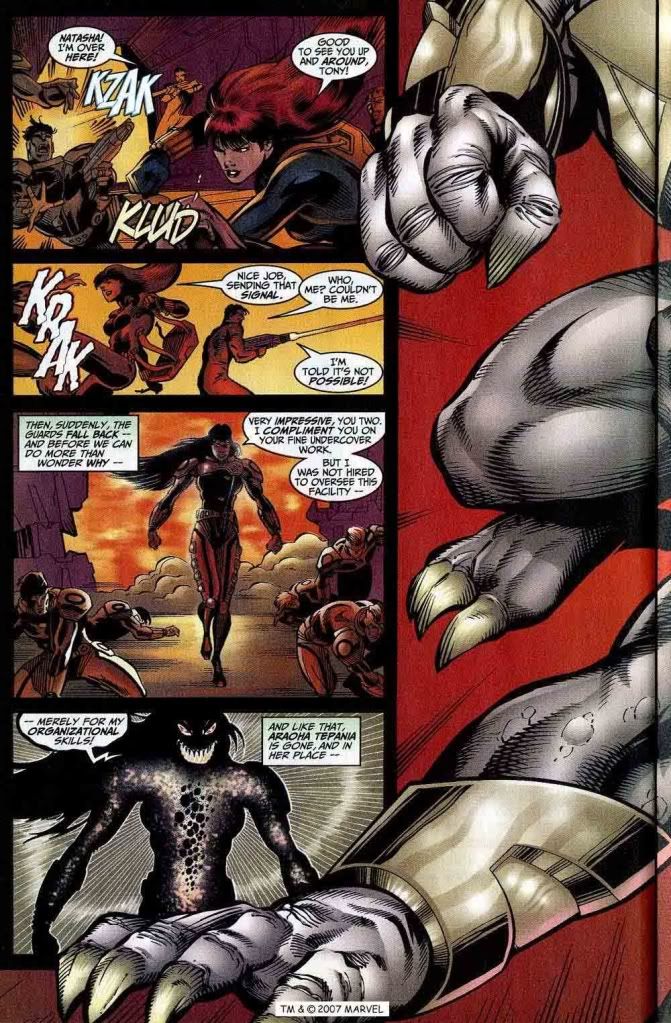 Well how 'bout that. Certainly, this Tuatara doesn't bear much resemblance to the gentle chaps I meditated upon at uni. It looks more like a return to the manga-ripoff video-game-villain silliness we find with this character. Mind you, she is pretty frigging kickarse, and certainly gives two of the toughest heroes in the MU something to think about. Also, in best old-school Japanmination tradition, her impractical armour has morphed to fit her new form, just like the Hulk's incredible purple Levis. But the Widow manages to arrange a distraction long enough for Stark to "escape", and Iron Man's timely "arrival". Then it's all on, complete with utter dickhead commentary (look, I just really hate Iron Man, okay?):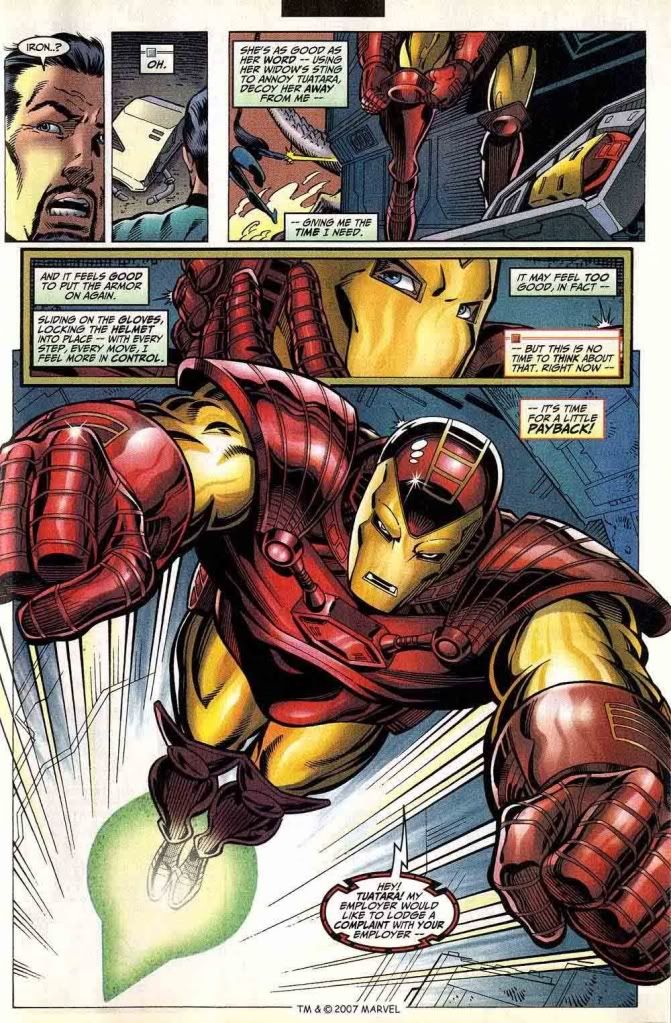 You can almost hear some kind of funky 8-bit soundtrack in the background, eh. It's impressive to note the props Tuatara gets from Iron Man here; being put on a par with the Hulk is quite flattering. He's actually quite overwhelmed in the fight; even when starts to get an advantage on her, it still takes a deus ex machina to end the battle.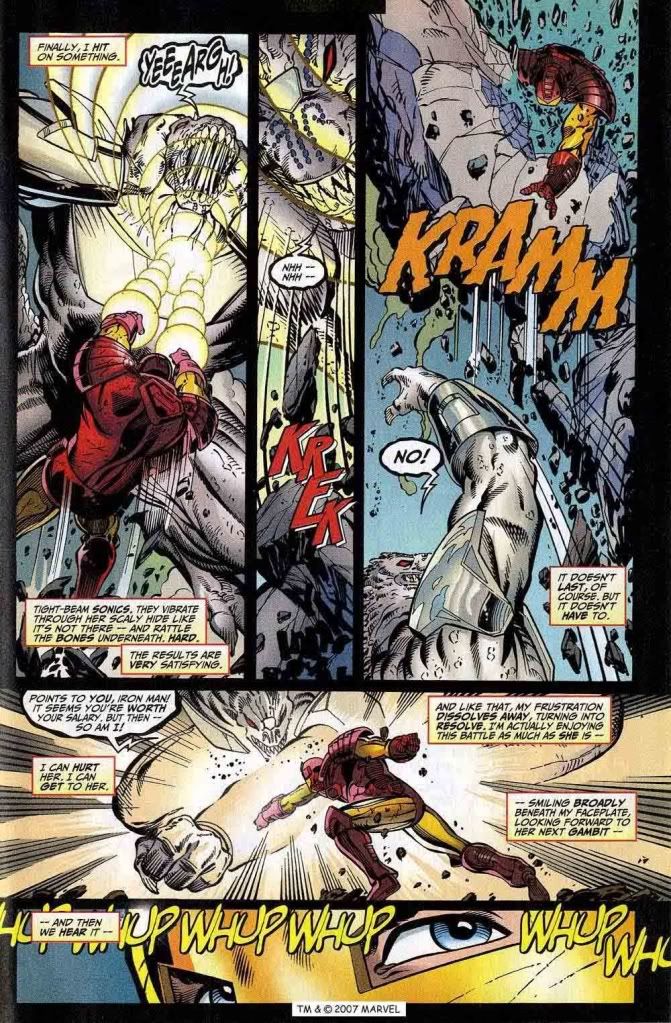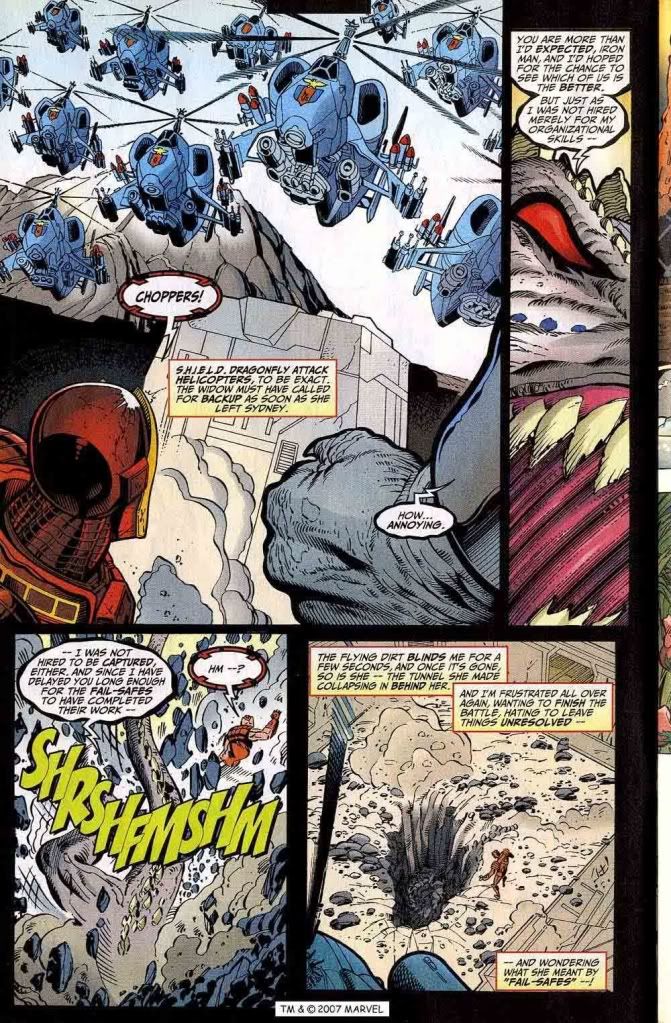 So, with as dramatically as she arrived, Tuatara disappears. Despite only have a single comic to her name, her achievement is impressive : she fought Iron Man to a draw, and managed to hold off the Black Widow. She's clearly a great villain, although also a somewhat overpowered cliche. Certainly, in the MU version of NZ, I imagine she would be quite celebrated despite her mercenary status. But yet again a Kiwi character is consigned to the void of forgotten one-shots. Here's yet another good idea for you, friends at Marvel : how about putting a (slightly improved) version of Tuatara in Iron Man 2? Give Keisha a call, I'm sure she'd love it.
The next instalment of Patriotic Nerdery will be slightly delayed. Two comics dominate my world at the moment -
Century
and
Dark Reign:Ms Marvel
. I hope to blog on one or both of them at some point. Stay tuned.