Welcome to the second instalment of Patriotic Nerdery. The character featured this time is quite different to our first entry, the
Kiwi Kid
. Whereas the Kid was a Pakeha with no superpowers, this character is a teleporting Maori mutant from the East Coast, known as Kiwi Black.
Now you may think that sounds cool, but Kiwi here has a problem - beyond his rather unimaginative name. He's stuck in the Uncanny X-Men
comic
, and thus doomed to be a character dwelling in a world of style over substance, giving the whole damn genre a bad name. He's all sizzle and no meat, you could say. He spends his whole three issues' worth (#s 429, 432 and 433, from 2003, if you care) of action just standing around, looking cool, and not saying a single thing. Whereas the Kiwi Kid couldn't shut up, Kiwi Black doesn't even get a single hardarse line to spit. He's just a big, surly, non-event.
The first thing I notice about him is his moko - or rather, that pretty poor imitation of one. It doesn't bear much relation to 'classical'
moko
nor any contemporary
styles
. It looks like he used a marker pen in the mirror. Here we have a big indication of his shallowness as a character - or rather, the substandard work of writer Chuck Austen, whose terse Comicvine page
says it all
. Kiwi Black's sole purpose for being is To Stand There And Look Mean. To this end, the creative team just grabbed something that "looked cool". Knowing nothing of the extensive
history
of moko, or even Maoritanga, they just use it as a plot device. That kind of cultural piracy, although common, is
not at all
popular 'round my way.
Another indicator of his Googled, ripped-off origin is his hometown,
Ruatoria
. For one thing - although I doubt the writers would have known - this tells us he's probably of
Ngati Porou
ancestry. Ruatoria was also the hometown of Moana-Nui-a-Kiwa
Ngarimu
, one of NZ's finest soldiers and, until Willie Apiata won his in 2007, the only Maori to win a Victoria Cross (Wikipedia is
WRONG!
). I reckon this is probably where the writers got the idea to make it Kiwi Black's home. But also, there were the years of the
Ngati Dread
. Images like that may have inspired the writers - although I don't think they'd like to know what the East Coast Rastas would make of this ripoff. Certainly, the idea of NZ's "Wild East" - bullshit as it may be - seems to have influenced the character. That's a fitting indication of how "the look" is more important than any character depth.
Anyhoo, you came here to laugh at stupid comics, and not to recieve a lecture on cultural co-option. So, what's the story here? Well, there's an X-Men character called
Nightcrawler
. He's a monkey-like dark-blue mutant teleporter; he just goes BAMF! and disappears to reappear in another location. He got a brief moment of
glory
in the second X-Men pic; but I don't think they got that BAMF! right. Generally, he's an annoying jerk. To give you an indication of what little esteem Nightcrawler is held in, by comics nerds - you see that little cloud of gas he leaves after every jump? The potential for fart
jokes
has not gone unexploited.
Now, the plotline in this particular story-arc is well-nigh incomprehensible. But basically, it turns out our farty blue teleporter's father is
Azazel
, a pretty nasty demon. It's also one of the
lamest
and most cliched demonic monikers you could pick; yet another testament to the quality of this comic. (He's also never been used since this arc, despite his seeming importance). So Nightcrawler goes off to find his dad. Their meeting doesn't go too well, however; as daddy goes all
'no-wire-hangers'
on his son and his mates. He sends out a gang of folks to put the beat-down on them, and we see Kiwi Black for the first time as he gives somebody a hiding.
He gets to do his whole stand-around-and-look-staunch thing on a couple of pages, as everyone tries to work out what is going on. Usually when the characters don't have a clue, neither do the readers.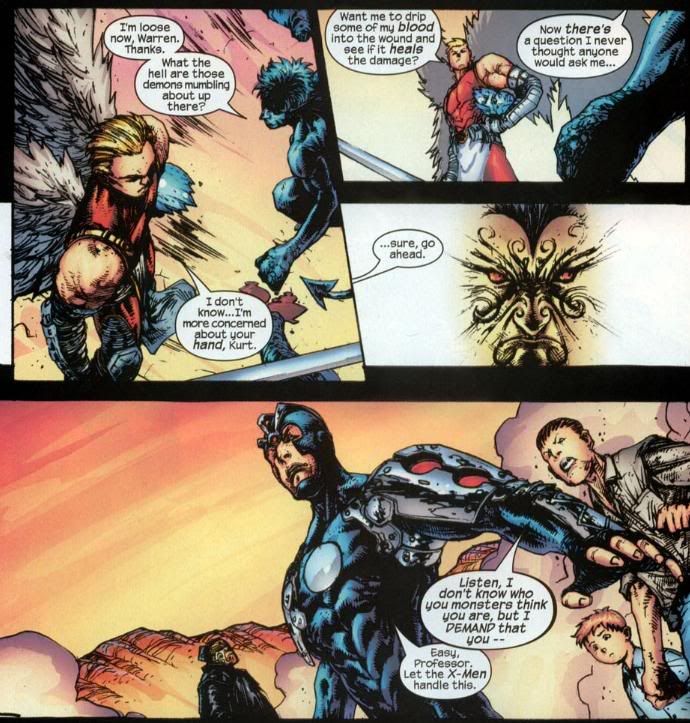 OOOHHH FROWNY FACE! He also gets a brief action panel in which he does his best impression of a samurai warrior with a flamethrower mounted in his topknot: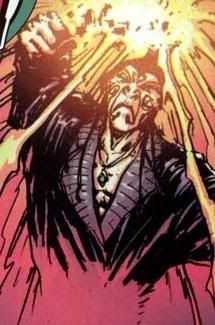 OOOHHH REALLY FROWNY FACE! By this stage it's pretty much impossible to work out what side Kiwi's supposed to be on, but that soon becomes a moot point. Azazel settles everything down and does his big reveal, having a small group of the characters - including our Kiwi - brought together for a little chat.
This page illustrates one of the important elements required in a crappy Marvel comic - that Wolverine (bottom left) be featured, even if he has absolutely no relevance to the plot. Seriously, he gets his short hairy arse in everything, especially if it's bad. Anyway, Azazel throws them all a big dinner party, and does a whole Luke-I-Am-Your-Father on Nightcrawler, that Abyss dude, and our Kiwi Black. Whoa! A demon actually stayed in NZ long enough to father a child! Imagine what the Sunday-Star Times would say about that!
After this little moment of utterly uninspired villainy, Azazel calls Kiwi Black to him for a quick word, in private. Well, not really a quick word...
...rather, he implies bad things about our boy's mum. This gives Kiwi his best bloody panel ever as he seems to go totally Orc (LOTR strikes again?). As for 'kia ora', I think 'tena koe' would have been more appopriate, given the formality of the situation. At any rate, our boy gets a pretty ignominous sendoff:
I guess there are worse ways you could get sacked by a demon, but being shown the door like that would still suck.
And all this time, Kiwi Black never said a goddamn thing.
You'd think the misery of being a two-dimensional, cliched, wallflower of a character would be terrible enough. But the Marvel Universe was not done screwing with the teleporta from Ruatoria. A few years later, along comes
Decimation
. This massively unpopular storyline screwed over a million mutants. Somebody at Marvel had decided there were too many of them in their Universe, and so - voila - with the stroke of a story, thousands of them were "depowered". The blow fell heaviest on all those obscure one-shotters, remembered only by nerds like me. In the background of the New Avengers comic dealing with the Decimation, a long list of depowered mutants could be seen.
Away to the left, somewhere between such luminaries as Jubilee and Magneto, was a familar name:
Well, at least SOMEONE remembered him, eh? The poor bastard was not only written off, but deprived of his powers as well. Some mutants have got their powers back - in an indication of how rushed and poorly thought-out this storyline was - but not third-raters like our Kiwi Black. He's been left in that lost character void. The depowerment trope often prompts a re-examination of the character, however. Here's a storyline, then; a newly redemptive Kiwi Black, teams up with a newly-returned Kiwi Kid, and they take on HYDRA here in the green fields of NZ? C'mon Marvel!
Next installment : things will get even more complicated with Tuatara - more cultural piracy, AND she's the only NZ superheroine on our list.