Did you know there were so many dumb people on teh Interweb? Me neither. How did they get in? Let's look at some, because the only thing I can do to idiocy is laugh at it.
New Zealand television, after an awfully painful processing, has finally produced a real gem in
Outrageous Fortune
. Regardless of one's critical view, it really is staggering that we have a solid local drama that has now run for five seasons. The cultural cringe seems, for the most part, to be evaporating. We can now have telly progs which don't take themselves too seriously, can be creatively daring, and still entertain a huge audience, and in this reporter's opinion it's about bloody time.
Naturally, OF is represented
online
. The forums are of particular interest to us here. For the most part, there is plenty of cheerfully illiterate discussion about the prog; cast and characters, plot predictions, and so forth. But it is here on the OF forums that one oftimes meets the type of "munter" that is satirized on the show. Only now they're cyber-munters; a very rare kind of native troll.
Let's look at some examples, shall we? These are all from screengrabs I've taken over the past few months. I always seek out threads that have been "sunk", and especially the "closed" ones. But we'll start off with some casual stalking of Antonia Prebble:
Maybe he just wants a signed photograph. Or something. But that chap's a virtual Lothario compared to this guy:
Sorry, female blog readers; I wasn't able to get the screengrab before the mod deleted his number. So now you'll probably never get to savour that good body/average looks combo he promised. He does strike one as an earnest chap; I myself would just strike him. Screw posting his number, he shouldn't he allowed to
post anything
, at all, ever.
So we've got stalkers; also snarkers: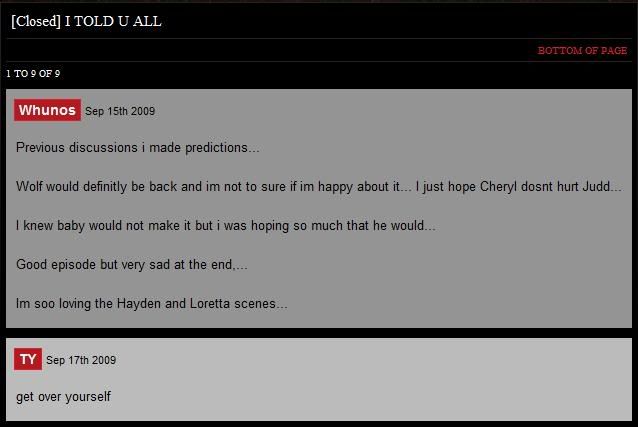 And sometimes, there are the truly vitriolic one-offs; folks who create an account purely to start a flame war. They roar in on an epic troll, then lay into the fan-dumb backlash like only Kiwi suburban trash could. A recent smackdown unfolded as follows:
Thus begins an august and measured debate worthy of history's finest orators: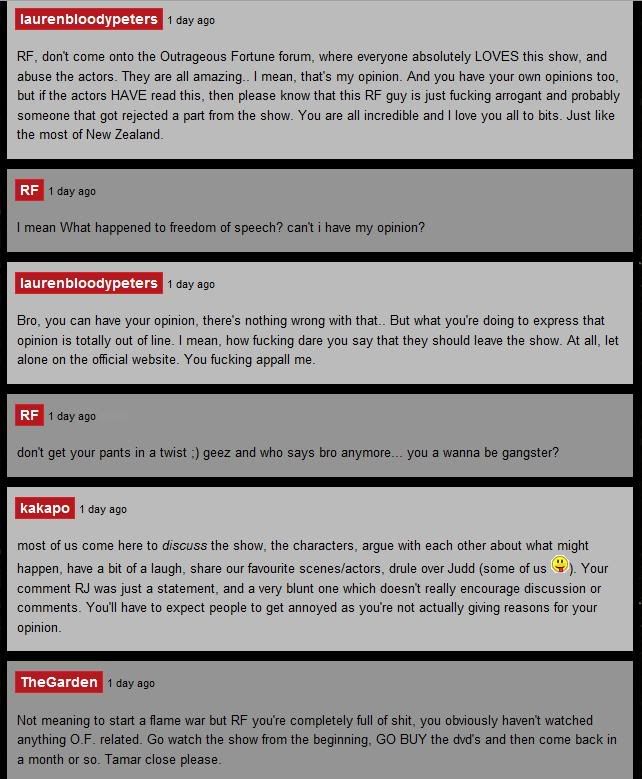 Eventually the dueling flamethrowers cross beams, an a horrible beauty is born:
But sometimes the dark power of the OF forumers can be swayed to a good purpose...like harassing any reviewer who DARES criticize their show. Apollo help you if you incite their wrath!
Now properly roused, we see that same kind of impartial debate springs forth once more:
And hey, why not send aggressive and harassing emails to the reviewer!
Let us now leave the lively OF forums, and proceed to mocking a group of people far more wretched than some emotional TV fans. We're talking
Gnatsies
Nazis. Recently there was quite the to-do in the UK as Nick Griffin, leader of the British National Party, went on
"Question Time"
. For my part, the journalist in me says that this oafish goblin of a man should be allowed on the telly, to be mocked and derided as brutally as he was on the show. But the historian in me says that yeah, well, they mocked Hitler at the start, too; and look how well that turned out - hence Griffin the Goblin shouldn't be allowed on TV. It's complicated.
As far as New Zealand goes, our native Nazis WISH they were as horribly high-profile as the BNP. But their mediocrity is truly astounding, even by the asshat standards of your average skinhead. Behold the head of our National Front, that noble scion of the Aryan Race, Kyle Chapman:
Isn't it funny how Nazis and fascists are always such poor examples of "their race", as they put it? An old joke in underground Nazi Germany went : "The Perfect Aryan is slim like Goering, tall like Goebbels, strong like Himmler, and pale like Hitler!".
This troglodyte's
infamy
is well known.
Recently
he claimed to have abandoned the Party and taken up the Mormon faith, as encouraged by his new wife (a member of the church). But obviously he got bored of being ignored, and has now come up with a new party, the Nationalist Alliance. He's got big plans about getting all survivalist in some isolated corner of the South Island.
And here's the punchline. Last Sunday's Star-Times featured a wee
piece
on Chapman's mediocre fantasies, and provided some hilarious quotes. Describing how they will set up this little camp, Chapman says:
"To avoid it becomming [sic] a [sausage] fest we will look at supporting some Eastern Euro like minded women for the many single men we have."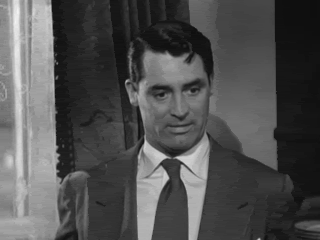 You said it, Cary. Get this : skins are BRINGING IN IMMIGRANTS! From EASTERN EUROPE! Is that not a tad IDEOLOGICALLY UNSOUND, LOSERS? But of course the real clanger is that "many single men" bit. O RLY? I wonder why that is. Imagine all these cretins trying not to succumb to their repressed homoerotic urges down there in the looong Southern winter night.
Anyway, let's give up on one bunch of grotty adolescents and their masturbatory fantasies, and move onto another! I was most upset at a certain aspect of the recently released 'G.I. Joe' flick, "Rise of Cobra". Don't make that face at me; for one thing I'm an 80's kid and it is - for better or worse - a part of my cultural heritage.
Now the Joe franchise has two kickarse action women : Scarlett (for the Joes) and the Baroness (for Cobra). It's one of the oldest designated catfights in toy history. They're both super lethal and just as sexy, so a live-action realization of these characters is appealing, I have to say. But that realization, when it came, was a major let-down.
First : Scarlett. She's a redheaded Southern Belle, thus
pushing
mashing most of my buttons; but to top it off she was brought to the screen by a favorite actress of mine, Rachel Nichols. So I was hoping for serious funtimes here. But man, they screwed her over good. We're told early in the movie that she graduated from university at age 12, and is some kind of uber-genius. (This is emphasized by a scene showing her reading Kant while running on a treadmill - in tight pants and cutoff sweat top; coz you know, all geniuses do that). But she does TWO THINGS in the whole damn movie. She actually spends most of it "depowered", moping about all insecure and serving no purpose than to provide a love interest. So much for her awesomeness. She only comes right thanks to her man sorting it out.
The two things she does do are (a) shoot someone in the face with her trademark crossbow and (b) know Celtic! An important plot point at the climax of the film is saved by her Suddenly Remembering that she speaks "Celtic", whatever the hell that is - a proper linguist would have meant Erse.
Second : The Baroness. Well...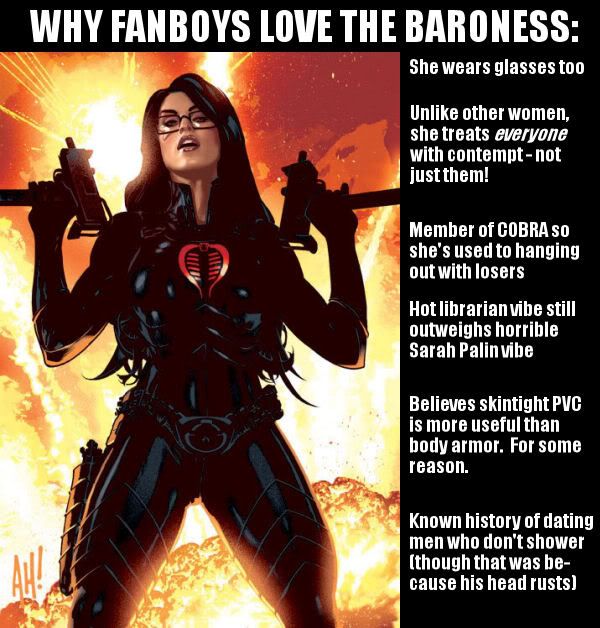 In this film, one of the most gleefully amoral and evil female characters in recent history is neutered utterly. It turns out she only went bad because (she thought) her man had done her wrong; and all it takes is the redemptive love of said man to bring her back. She's denied any free will or purpose; and is nothing but a pawn. It's sad. Aren't women allowed to be independently evil in Hollywood? Oh well; at least she'll always have this:
Destro and Baroness GET MONEY Song
Paige
|
MySpace Video