PATRIOTIC NERDERY, part 1
One of the reasons I waste so much time in the Marvel Universe, is because there's room for everyone. It comprises gods and geeks, demons and dustmen, anarchists and angels. There's just such an epic sweep of characters from the sublime to the ridiculous. You can have your godlike, galaxy-spanning epics; or go for the street-level mundanity of freaks in spandex.
New York City seems like the ultimate epicenter; geeks have calculated, based on forty years of comics, that there would be a 'superhuman event' every 20 hours in NYC. Trying to get to work without having the Hulk smashing your car or Namor flooding the city or the Kingpin kidnapping your cat would be an incredible challenge. It's something of an open joke within the MU itself. Indeed, as we shall see, it's practically a spectator sport.
So there are times when they need places - and people - that are a tad less tired. Thanks to small, hairy things like hobbits, possums and Peter Jackson putting New Zealand on the American cultural map, my humble homeland has taken on a profile in the MU. Recently HYDRA, about as bad a bunch of bad guys and girls you could get in Marvel, decided to base themselves here:

(Damn, but that hill looks so recognisable - like an old pa site from around my hood). At any rate, there would be one major flaw in HYDRA's plan - the minute a bunch of A-list supervillains arrived in this country, they would be accosted by a hundred journalists desparate for their opinions on us.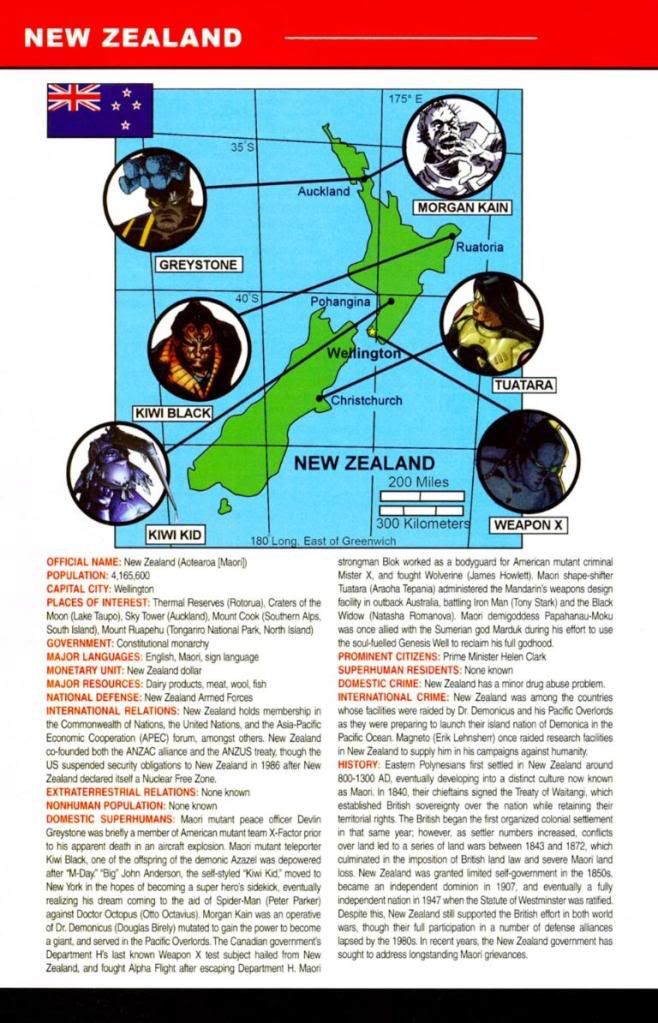 This is from the Marvel Atlas, published November 2007. There's a few lolz here for Kiwis. Tuatara and Kiwi Black have to rank among the
lamest
names EVAR in comics, and there's some stiff competition. (Both those guys will be the subjects of a later blog). I love the note under domestic crime : "New Zealand has a minor drug abuse problem".
O RLY?
It's like, "oh yeah, that New Zealand guy's cool but he hits the crack a bit too much". Because alcohol isn't considered a 'domestic crime' issue they don't mention the fact most Kiwis are far too drunk to be superheroes, or even to
fly
. But the standard info reads straight from an encyclopedia, and is otherwise legit.
It's the entries under 'Domestic Superhumans' that will be the subject of these blogs. First up is 'Big John' Anderson, alias "the Kiwi Kid". I feel this name isn't so bad - at least it has an assonant kick...of some kind. The Atlas names his birthplace as
Pohangina
- solid Kiwi heartland, at any rate. He is, interesting to note, the only Pakeha on our list.
The Kiwi Kid enjoyed a five-issue run in 2004's Spectacular Spiderman, volume 2, numbers 7 to 11. So he appeared at the height of the Lord of the Rings craze, and is probably a cash-in on that. There are some aspects of him that seem like a portrait - or at least a caricature. We first find him sitting atop his New York apartment building, with a few friends - including his new neighbours, Peter and Mary-Jane Parker. They're there on the lookout for superheroes; given that this is NYC you'd probably be able to see one a night.
Okay, first off, "GONZO"? "RIPPER"? "UNDEROOS"? Second, it's interesting to note that, like other classic comic-book characters such as Morpheus and Rorschach, the Kiwi Kid gets his own speech pattern - ALL CAPS. I guess that's suggestive of the loud, gauche voice of some Palmy lad. He certainly looks like one.
Of course, Big John has no idea that his neighbour is actually Spiderman. The irony of his presence on the roof is part of the ongoing joke of Spidey. Anyway, the actual storyline of this comic arc involves Spidey getting down with one of his oldest foes, Doctor Octopus. Doc Oc kidnaps some diplomat and threatens to kill him - provoking an international war - if Spidey doesn't reveal his identity publicly. As it happens, the Doc is bluffing. Spidey, however, needs some help to call that bluff - hence Big John.
I like how he calls him 'fella' - that old borrowed Arab word is about the only decent Kiwi-ism in the whole story.
Big John swings into action, and we get our first look at his costume: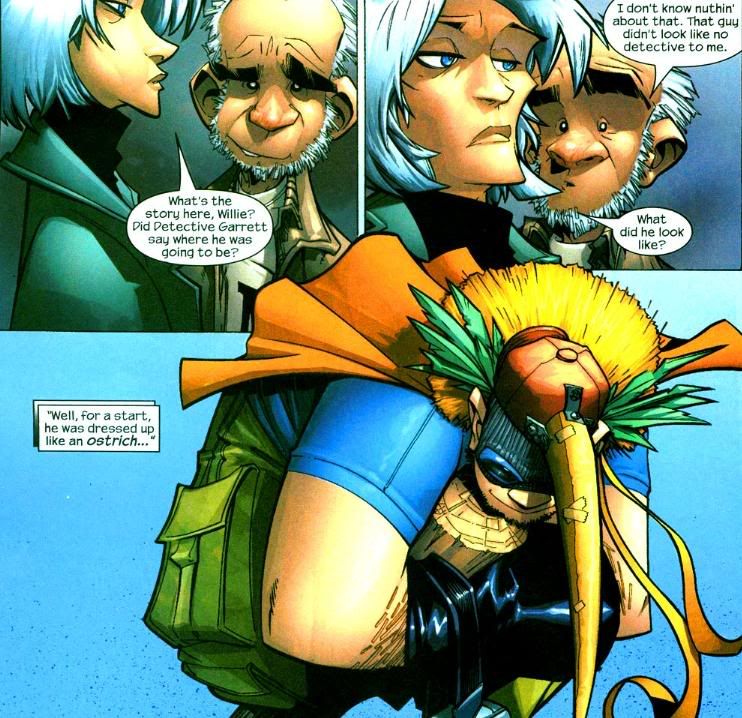 So, we have : one (1) orange backwards baseball cap, with attached yellow beak and foliage (ferns?). This sits atop a blue balaclava and goggles combo, finished off with blue t-shirt and cargo pants. You'd think he could have tried a little
harder
, considering national pride was at stake. It be fair, it could be
worse
. For my part I would have gone with a Goodnight Kiwi
ensemble
- hey, that would even make a great name.
The Kiwi Kid's job is to broadcast footage showing that Doc Oc is lying, and allowing Spidey to take the villain out. Our local hero performs well, and Spidey saves the day yet again.
I think any guy who used the word "sheila" these days would be promptly told to return to the time machine from whence they came.
So, a happy ending then! Well, almost :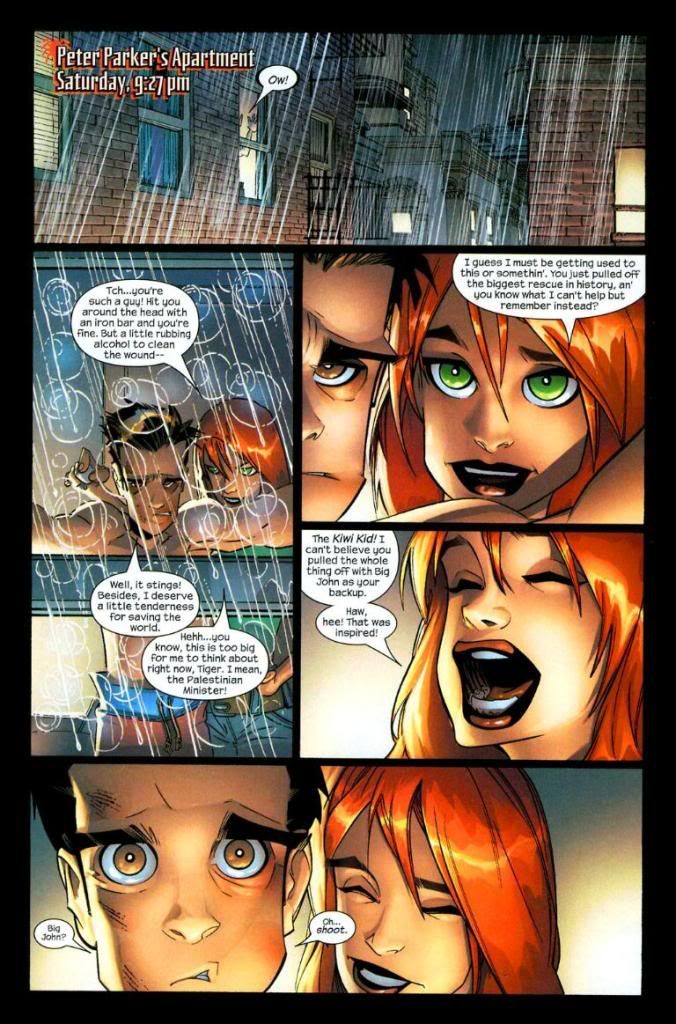 Apart from a very fleeting appearance in the following issue, Big John disappeared from the MU after that. He's joined the chorus of silly one-offs; consigned to be an obscure rarity pored over only by nerds. A sad fate for a national hero. I would encourage someone at Marvel to give him a mini-series; perhaps even based here, with the Kiwi Kid and his cohorts chasing down HYDRA! Why the hell not, it's a damn sight better than many other of their plotlines at the moment.
That's the end of this instalment of Patrotic Nerdery. Next time we examine the strange story of the laconic Kiwi Black.