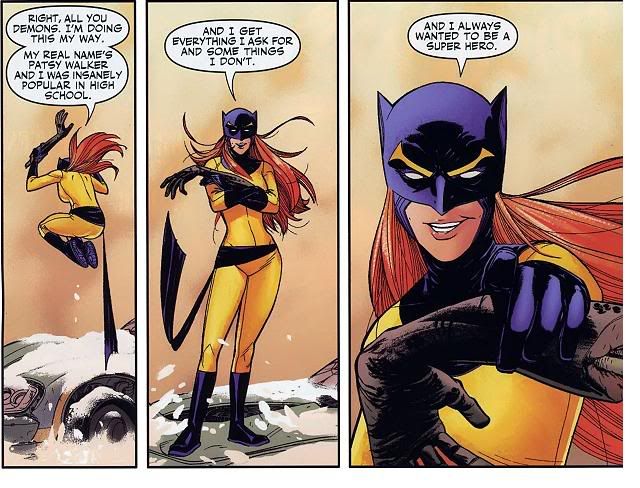 Part 1 : The Girl Who Could Be You
Comic book characters can be complicated things. Some of them have more layered history than a small country, and any examination of them is a drawn out process of onion-peeling away these layers. For example, I wanted to do a blog on
Marvel Divas
, the so-called "Sex and the City meets the MU!" title which has just started its run. But I couldn't tell that story the way I wanted, without first having to reveal my favorite superheroine ever, as she takes the 'Carrie Bradshaw' role in Divas.
She's considered an underrated heroine, despite her formidable career - she's been called the "queen of genre-bending"! She started out during WW2 as 'the female Archie', but became popular enough to head up her own line of romance comics. These ran longer than any other comic at that time in Marvel's history, and she was bought into the MU as one of its original characters. Then she donned a costume and became a full superheroine, experiencing some bizarre adventures, before finally - and literally - going to Hell and back.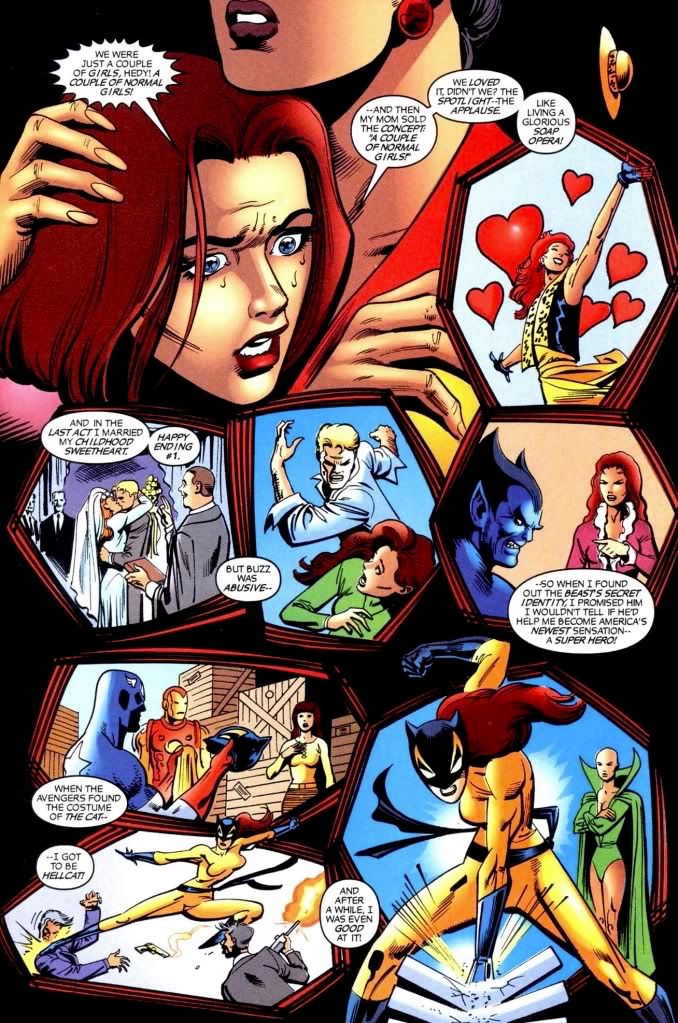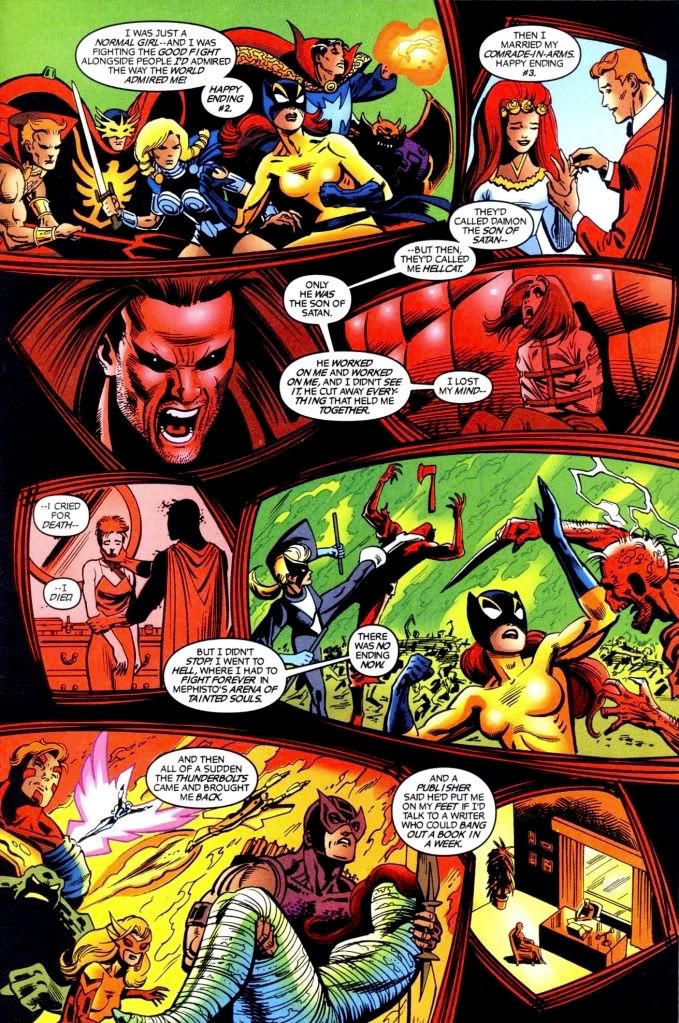 She got everything she wished for - with all the horror that brings. "The Girl Who Could Be You" has experienced an epic, sixty-year-long character arc which has mapped and mirrored the story of women in comics, and established a fiercely loyal fanbase. Currently, she's enjoying something of a renaissance, and I'm glad to see it. So here's one
mad bride's
tribute to Patsy Walker.
As the March Hare - a fitting totem for our Alice-like heroine - once observed, "let us start at the beginning". Patsy's first appearance was in 1942, as a second-tier member of the Archieverse - that stalwart of the American comic book world. She specifically appeared in a title called
Miss America
; one of the real oddities of Marvel's Golden Age. The eponymous heroine wore her glasses in costume, and was quite racist, even for the WW2-era.
But with the end of the war, there was a tectonic shift in the entertainment market. A new beast was born - the Teenager. Superhero comics became so square, daddio. A combination of TV, rock-and-roll, and a general
backlash
against that genre, saw comic book writers seeking a whole new market - the teenage girl. They understood now that this audience wanted comics about themselves, their lives and their interests - but filtered through the escapist fantasy of a comic book. (Consider the context - it was teen drama for the bobbysoxer set. Imagine how dated our teen-tertainment will look in sixty years). Roller-skating into this new world like a flamed-haired crazy thing, comes our heroine.
Patsy got her own title in 1944; it would be the first of six different titles that would see her constantly in print until 1967. She was given her own little town (Centreville), a cute-and-dumb boyfriend who worked in a ice-cream shop ("Buzz" Baxter), and a best friend / deadly rival, Hedy Wolfe. And they managed for milk that for over twenty years.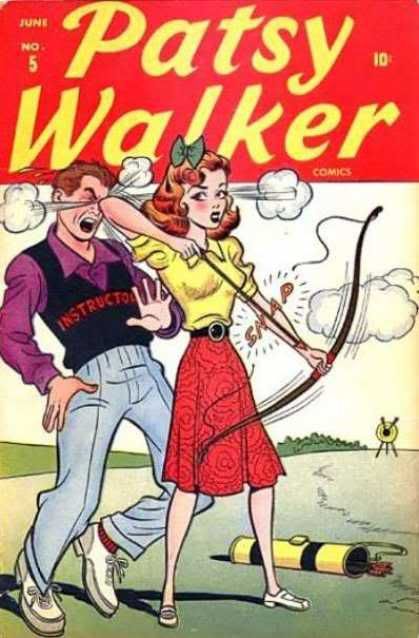 Her character was established pretty early - that classic firecracker red, a little crazy but good at heart, with a meaningless catchphrase : "Cheese and crackers!". As the core audience got a little older, the more Archie-esque shenanigans gave way to lots more Gay Romantic Tales:
In the Archieverse, a central trope had always been the "Betty vs Veronica" dichotomy. The hero has two girls; the first, the 'Betty', was usually blonde, innocent, boring, and hence the 'ideal wife'. The second is the 'Veronica' - darkhaired, vixenish and considered the 'bad girl'. This idea was transplanted over to Patsy's world; only she became the Betty, and her deadly frenemy Hedy Wolfe was the Veronica. The 'Archie' of this piece - the hapless Buzz - becomes an oblivious background character.
Hell, they even managed to get a joke about a military crisis out of it:
Eventually the team at Marvel (or Atlas Comics, as then was) realized the real story engine was this rivalry between Pats and Hedy. Their audience seemed to lap it up. So Pats' title evolved in 1952 to accommodate Hedy.
For some reason, about 50% of the total plotlines generally involve a baking competition. Both girls will agree how much they think baking is a moms-only thing. Then Buzz will come along and say "durrrr, I like cakes!" at which point both girls promptly race off to bake one. Hedy tries to sabotage Patsy's cake, but it backfires and screws up hers instead. She gets her comeuppance while Patsy and Buzz make out. They managed to keep THAT one going for fifteen years - it was called the "high-school hijinks" genre.
Mind you, it wasn't all bitchin' and fighting between the girls. In their own weird, competitive, way they were very good friends. There was something of the
Rory and Paris
to them. Every now and then this was made plain.
(In case you were wondering; yes, I did actually go through a massive pile of girl's romance comics from sixty years ago to find some good scans for a blog very few people will actually read. I do this because I love you, reader - but not as much as I love Patsy, for whom I truly pursue this blog).
As the mid-60's started to roll on, Patsy's world began to change yet again. She and Hedy finally graduated from school (after a twenty year stasis!) and became college girls. But this attempt at modernization went against a major shift then underway in the comic book market.
The start of Patsy's career had come at a time when superheroes were in decline. By 1965 they were dramatically back in fashion, thanks to a few geniuses at Marvel such as Stan Lee and Steve Ditko. Characters such as Spiderman and the Fantastic Four were now hugely popular. Also, less young women were reading comics; the modern conception of it being a boys-only hobby really dates from this era - the beginning of the 'Silver Age'. This meant the first wave of Patsy's career was over.
The contribution made by these romance comics, particularly Patsy's, is hugely important to the modern-day comics industry - especially to Marvel. It was these comics that kept the company alive during the lean years of the 50's, and without Patsy (and Millie too, but we're coming to her shortly) there would be no Marvel today. That's no hyperbole, and the company remembers it. With 2009 being Marvel's 70th anniversary, they have paid the old guard all sorts of tributes. A special '1939' edition of the Daily Bugle was printed, which contained two articles of note to us here:
This is where I have to give a quick shot-out to Millicent Collins, better known as
Millie the Model
, the real glamour queen of the MU. Her title was always slightly more popular than Patsy's, but it was aimed at an older audience, being focused on a 'single girl in the city' angle. As it happens Millie's nemesis (her Hedy/Veronica) was a redhead, the wonderfully named Chilli Storm. But like Patsy, Millie has become a part of the MU, and is going to be appearing (with Patsy, Chilli and other Marvel models) in an upcoming
title
.
So how did Pats makes this transition from the frivolity of romance comics, into the cape-and-costume mainstream? As her titles were wound down, she was brought across - along with Hedy, Buzz, Centreville and all - into the MU. A handwave made them all part of it: it was established that ALL the Patsy comics, prior to the mid-60's, actually existed within the MU itself. They were the work of Patsy's mother, who basically wrote a 'reality comic' about the idealized antics of her daughter and her friends. This is a good example of the meta-nature of the Marvel Universe; there actually IS a Marvel Comics in this world. Pats (and co) were thus minor celebrities within the MU, but Pats had never been happy about this.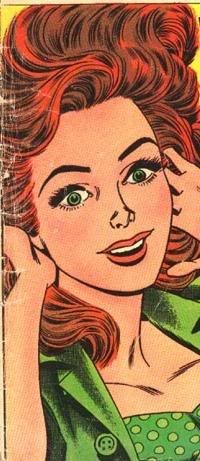 In 1965 - as Pats' title was finishing - one of the main events in the history of the Marvel Universe took place. This was the wedding of Reed Richard and Sue Storm, from the Fantastic Four. It was the first great superhero wedding. (When those ghastly and quite forgettable FF movies were made recently, this was made a major part of the second one's plot). Everyone of note was in attendance. In a crowd scene - showing the folks waiting right up front for all the stars - we were shown two quite familiar faces: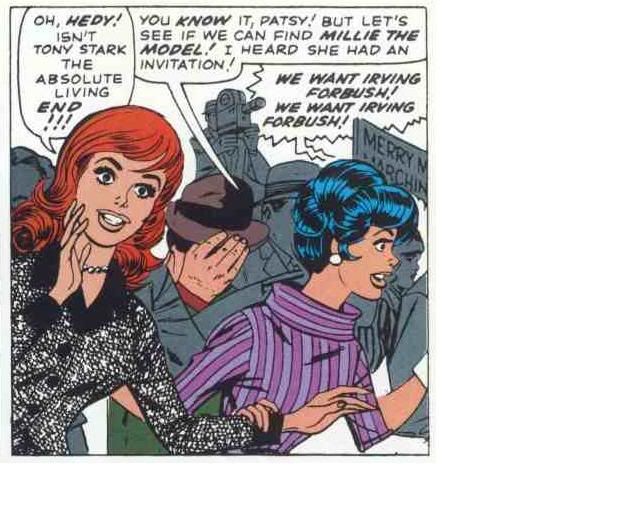 And there they were, now officially rubbing shoulders with the big names of the MU. Two other things going on here - 'Irving Forbush' was a non-existent Marvel editor that Stan Lee used an in-joke; and the sinister little chap in the fedora, behind the girls, is the Puppet Master, who later sets out to ruin the big day. (He fails, of course).
About thirty years later, in 1994, an amazing series was produced, called
Marvels
. It looks at the history of the MU from the view of a newspaper photographer; there is no 'floating timeline', and events take place historically, in the same year as they did in comics. Hence, in 1965, the FF wedding takes place and it is included in the comic. One of the many, many references and in-jokes in Marvels is a little panel with some friends of ours, on the occasion of this wedding: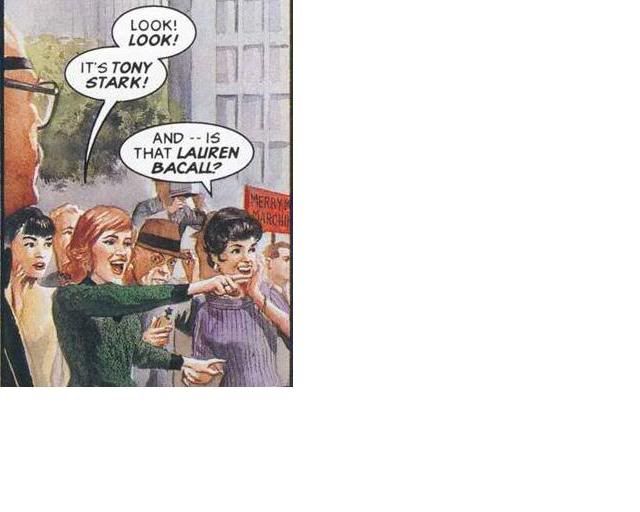 You can even see Puppet Master sneaking a quick look.
Between 1967 and 1972, Pats' career had a hiatus - her first in over twenty years - as Marvel tried to figure out what to do with her. They knew they had a loyal fanbase with the character. The final "Patsy Walker" comics had set a more adult tone for future storylines. Pats had finally married Buzz, but he had gone off to Vietnam as a fighter pilot, and come home deeply traumatized. Years later it would be shown be beat Pats, but that was never used at the time (unsurprisingly).
When Pats did make her return in 1972, it was in one of the strangest fashions possible. It initially takes place in a title called Amazing Adventures, used to feature some of the more unusual of Marvel's characters. At this time, the famous Hank McCoy, alias
Beast
, was going through one of his main story-arcs - his further mutation into a big blue furry guy. Guess whose husband gets made head of security at McCoy's base?
She was back!
Things, of course, get very weird around the base. One night, when Pats is chilling at home in a very revealing nightie, she gets her first run-in with a genuine superhero, and her life is changed forever.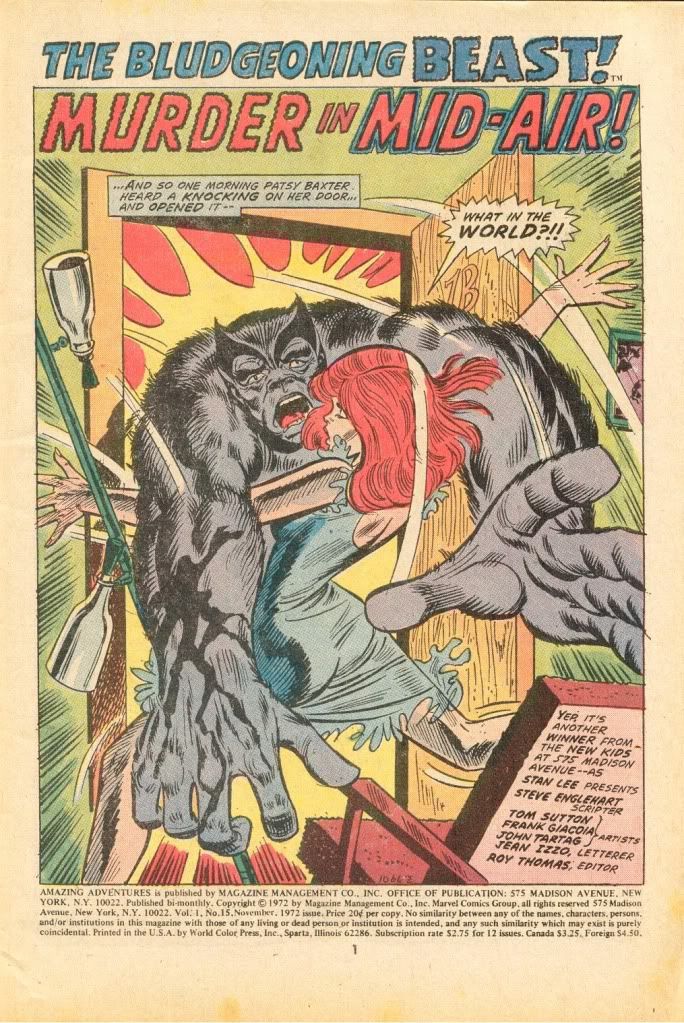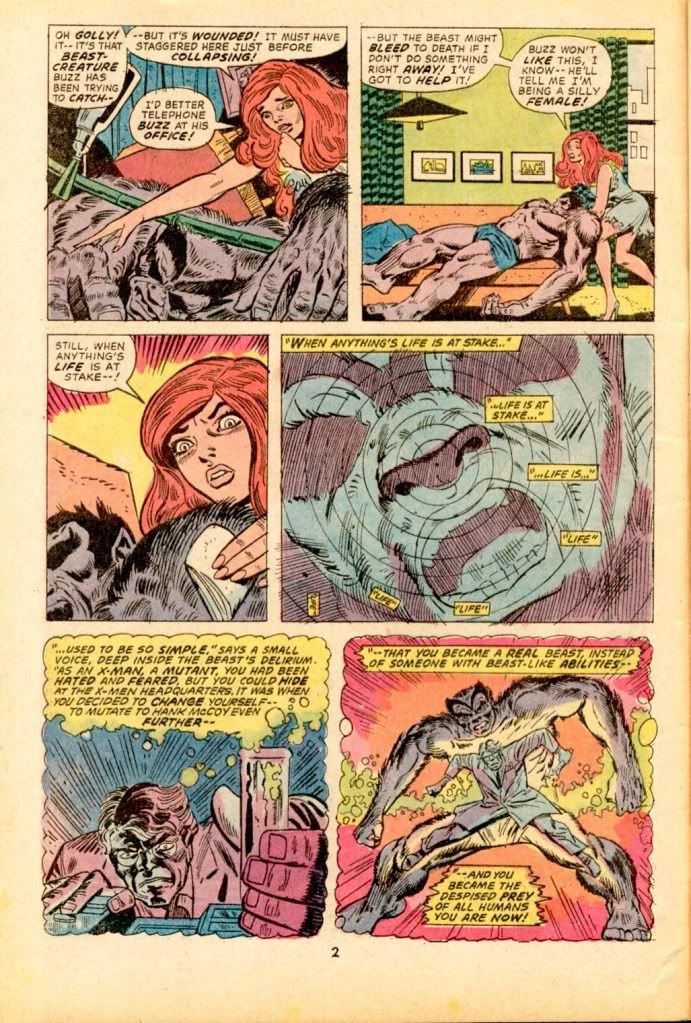 Silly girl, my arse; Pats totally saves the Beast, and they become firm friends (to this day). This of course means she totally dumps Buzz, and sets out to fulfill what she reveals was always her greatest fantasy - being a costumed hero. Thus begins the age of the Hellcat.
Previously, there had been a woman called Greer Nelson, alias
Tigra
. At the dawn of her career, Greer had called herself the Cat and worn a distinctive blue-and-yellow outfit. But later she manifested the ability to be a full-blown weretiger, and discarded the costume as she assumed the Tigra identity. This left a vacancy on the Avengers team for a feline fatale. Impressed with how Pats had saved Beast, and bought him safely to them, they invited her to join up. After a bit of reflection - and convenient exposition - a whole new chapter begins.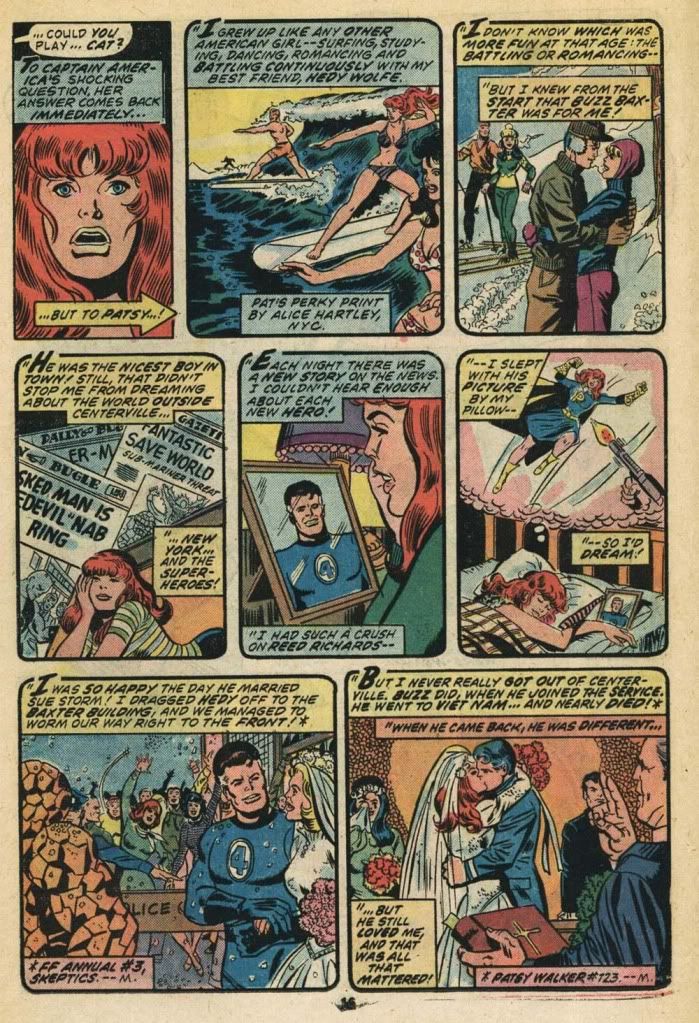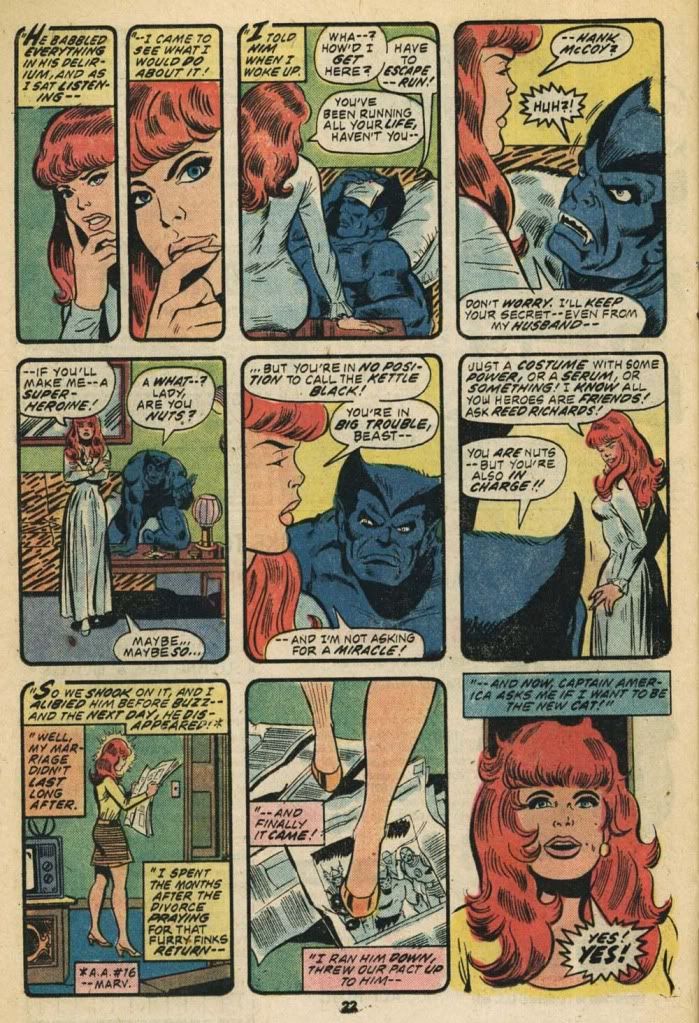 Ah, the 70's.
Pats decided that she didn't want to just be the "Cat" - it had already been done, anyway. She was always about cranking things up a notch - a fire-haired hell-raiser. She had her own, personal, touch to put on her new costumed persona; and a Marvel legend was born.
So ends the first part in the ballad of Patsy Walker. Just ahead lies her surreal adventures in the Defenders, her doomed love for Hellstrom, and her descent into Hell...then her ascent, and ultimate triumph.
For now, reflect on this. When Marvel published their beautiful "Marvel Tarot" in 2005, they adapted many characters to an Arcane identity. I was thrilled - and kind of chilled - to see this particular entry.
Part 2 to come.