I feel one has truly matured as a blogger when one has been burned - or at least singed - in virtual effigy. Having sampled such Dantean vengeance this morning, your faithful blogger feels he has achieved that dubious honour.
Some folks over at the Outrageous Fortune forums found my piece about the weird trolls who sometimes lurk about over there.
Here.
They took umbrage at what was immediately perceived as an attack on themselves. Jumping on my (indiscreet, I admit) link to teh Myspace, my profile picture was put up for a good tomato-throwing. So I had to wade in and explain myself more clearly, and point out that this sort of thing was just what I had been talking about. The picture-grabber was kind enough to take it down and apologise, and I think everyone's feathers were returned to an unruffled state.
I did let myself down in the original piece by suggesting there was a conflict of interest involving the forum and the show's publicity department, without means of fair reply. That is poor journalism, no matter how light-hearted I may have intended it, and it has been removed accordingly. I'd just say it was a bad reaction to seeing a reviewer, who dared to suggest an alternate opinion, have their email address offered up for harassment.
Needless to say, it sent my visitor count through the roof. Come for the insults, stay for the comics trivia!
Anyway, this is indeed a comics blog, so let's take a look at one of the coolest, funniest, and possibly most offensive superheroines Marvel has ever come up with - Big Bertha.

Bertha - real name Ashley Crawford - is a parody character. But like so many of her ilk, she has a greater depth and poignancy than many 'serious' characters. She is a member of the
Great Lakes Avengers
, Milwaukee's
only
greatest superheroes, and the biggest joke in the MU. They're a bunch of heroes with not-quite-useless powers who are generally ridiculed by everyone else. They also serve as a platform for some excellent superhero satire. Bertha is an excellent example of this; she initially only existed to mock the popular conceptions of women in comics, as she explains to her teammate Squirrel Girl:
What I - and many fanboys - love about the GLA is that they're plain, honest characters genuinely trying their best, as ineffective as it may be. Along the way they raise some very pointed issues about the politics of the superhero comic. It helps that their best writer,
Dan Slott
, is a master at this sort of thing.
In her civilian guise, Bertha is Ashley Crawford, "Wisconsin's Top Supermodel!". It seems she could be as big as her MU colleagues Millie or Patsy, but her loyalty to the GLA keeps her in the back country. Her (mutant) power is a kind of ability to "Hulk out" - when she becomes Big Bertha, she adds 300 pounds of muscle, and turns into an incredibly powerful behemoth.
Oh yes, the questions about body image are being hammered home here. And how do you think she reverts back to Ashley?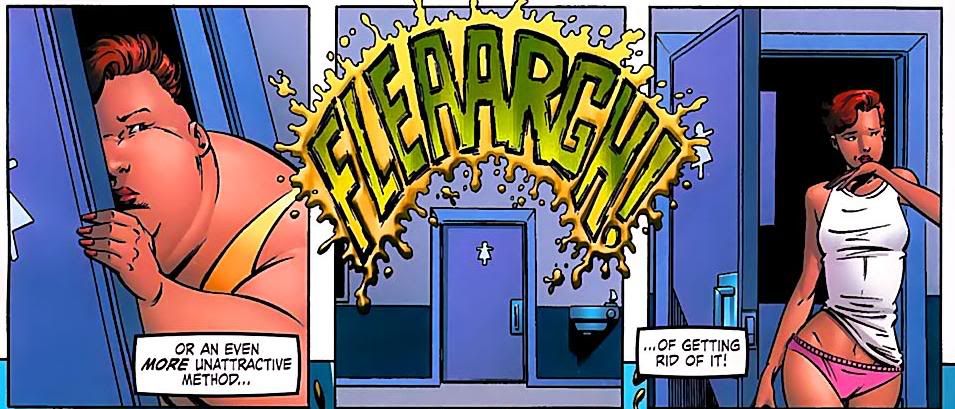 The GLA kind of humour is definitely something you either love or hate. I suppose a regular, nerdish familiarity with the tropes makes the irony sharper. But what makes a character like Bertha so damn cool, is the skill and affection with which she's written. She knows she's a joke, and that's the joke, and we laugh with her at the insanity of the whole concept.
Beyond being her beautiful parodic self, Bertha had a truly hilarious story of her own a few years back. The notorious Deadpool, king of Marvel's losers, decided to move in with the GLA as he related to their "lovable underdog" status. However the Merc with a Mouth turns out (surprise!) to make a nasty couch fungus, rapidly becoming very obnoxious to his new roomies.
The GLA boys decide to manipulate the one weakness they know Deadpool has. After his true love, Bea Arthur, Deadpool has a major crush on Big Bertha. They ask Bertha to take him out on a date, and use her feminine wiles to persuade him to leave.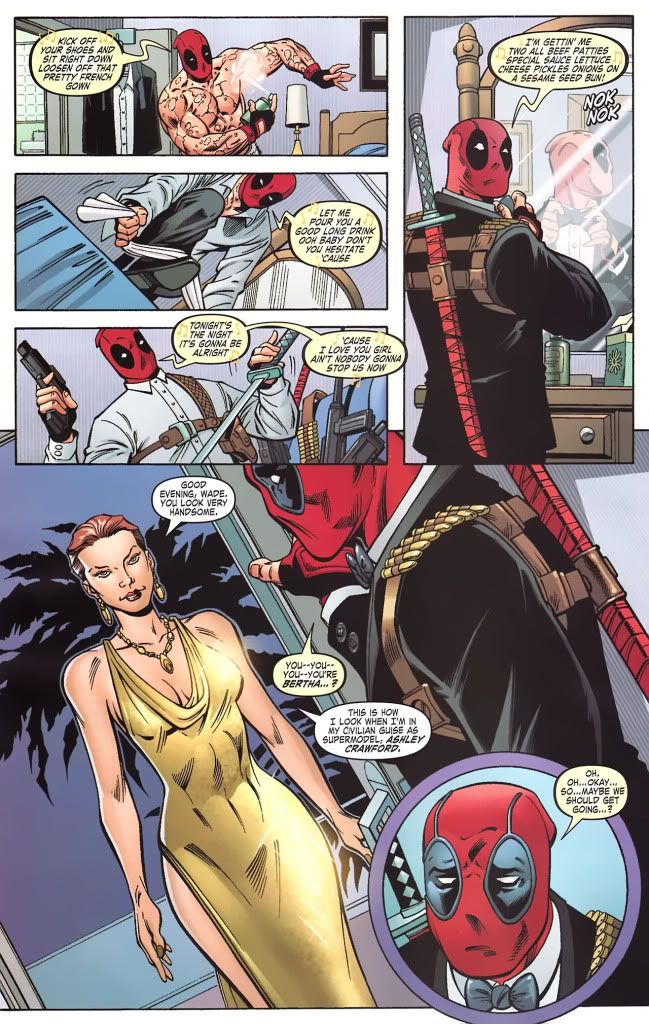 Wade's downcast because he's hot for Bertha, not Ashley. But making the best of it, the romantic pair travel to a seedy joint where the in-jokes come fast. The Simpsons and The Sopranos collide violently and our couple's date is interrupted. ("Yeah,
so I like Journey,
what about it?")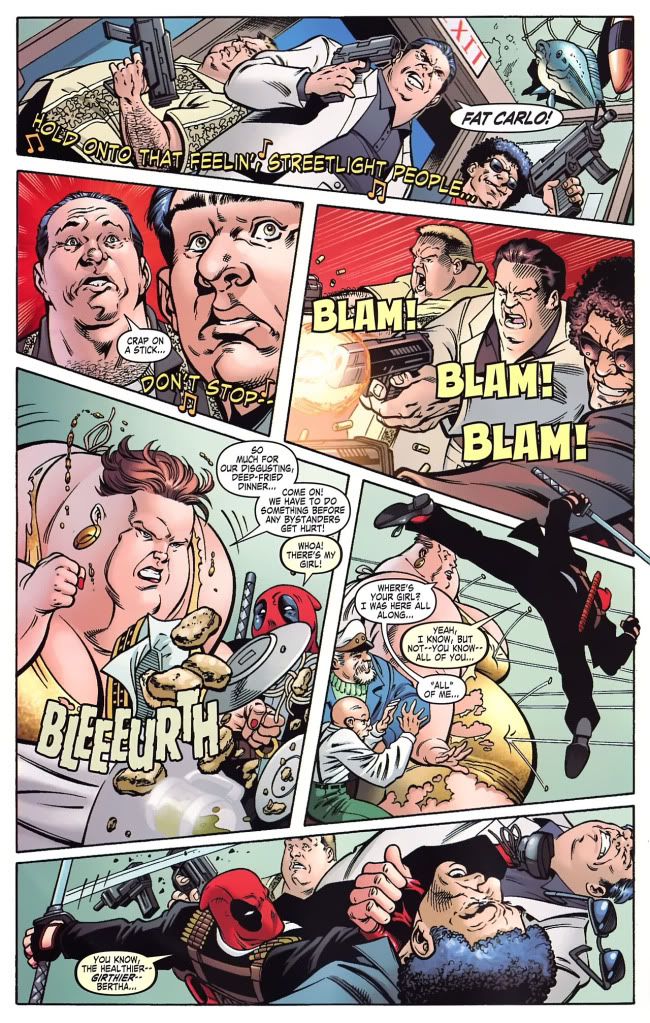 Afterward, Bertha and Deadpool have a little heart-to-heart: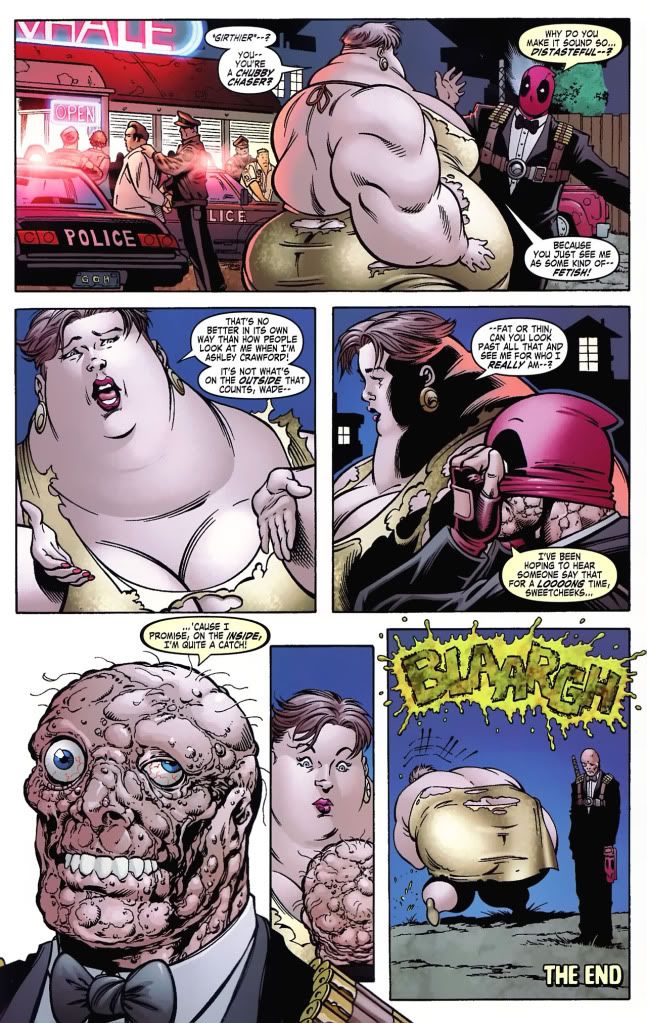 Awww, poor Deadpool. I feel his pain.
Now for something completely different to finish. The ending of this year has seen a proliferation of best-of lists, as everybody tries to wrap up the decade (with technically a year still to go) and their favourite parts of it. I used to be a bit leery of lists - they seemed a bit lazy; but once I got over myself, I learned to understand them. Also, none other than Umberto Eco - certainly NOT a lazy writer - has
praised
the virtue of the list as a ward against death. How can one argue with that?
So a time has come for the listing of things. It's prompted me to scour the Interwebs, remembering the past ten years, and thinking 'bout a few things. Some calls seem easy to make : I'd put
Alias
as comic of the decade, for example. But how about music videos? I've been trying to think all of the goodies from the past ten years, and it has led to some interesting finds on Youtube.
I am not positing No More Kings' "Sweep the Leg" as video of the decade, but I would include it in any list. The whole piece - song and video - is a detailed tribute to that 80's classic "The Karate Kid" - and reunites all of the original cast, with the notable exceptions of Elizabeth Shue, and of course the late Pat Morita. But in this vivid fantasy, the hero of the piece is Johnny Lawrence, the 'bad guy' and loser in the original film. The real kicker? The video was written and directed by Johnny himself,
William Zabka
. Zabka also plays himself in the lead role - rollerblading down the street, fantasizing about a comeback/rematch that re-writes the end of the original film. It's a great little piece of 80's nostalgia, with in-jokes aplenty.